The First Banner Ad: The Louvre Treasures
What appears below is a replica of the Musee d'Orsay homepage in 1994, one of the first museums in the world to have a web presence. At the time, they were exhibiting a collection called the Louvre Treausures and, hence, the AT&T site linked to it.
Musée d'Orsay
---
Where:
1 rue de Bellechasse, 7th Arrondissement.
Tel.
40 49 48 14; (recorded information: 45 49 11 11).
Métro
stop: Solférino.
RER
stop: Muse&eacute d'Orsay.
Open to the public:
10h - 18h Tuesday, Wednesday, Saturday.
10h - 21h45 Thursday.
9h - 18h Sunday (20 June - 20 September opens at 9h).
Closed Monday.
Admission: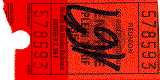 35F adult
24F students and seniors.
Current Expositions
---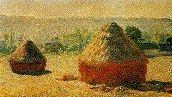 Paintings;
a small and inexhaustive collection of some of the museum's most famous paintings
Other Links
Page of
Monument and Museum Tickets
in the Paris Pages Special Exposition:
Paris by Ticket
Updated 10/94